Transporting Lithium Batteries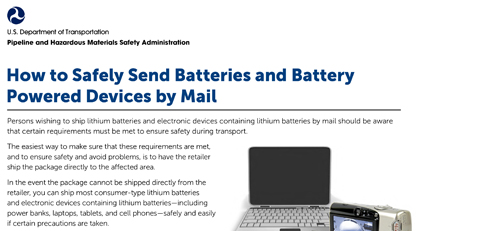 Batteries are woven into the fabric of modern American life. They power portable computers, telephones, and audio devices. They make possible motorized wheelchairs and cordless tools. We have come to depend on batteries for an increasingly mobile lifestyle. Today's batteries contain more power than ever, making possible a steadily growing number of higher-powered devices on the market. But with that increased power comes greater risk and the need to manage the risk.
Lithium batteries are regulated as a hazardous material under the U.S. Department of Transportation's (DOT's) Hazardous Materials Regulations (HMR; 49 C.F.R., Parts 171-180). The HMR apply to any material DOT determines is capable of posing an unreasonable risk to health, safety, and property when transported in commerce.1 Lithium batteries must conform to all applicable HMR requirements when offered for transportation or transported by air, highway, rail, or water.
Why are Lithium Batteries Regulated in Transportation?
Lithium batteries present both chemical and electrical hazards. Dangers include chemical burn, fire, and electrical shock. Batteries can be dangerous if not safely packaged and handled when transported. Misused, mishandled, improperly packaged, improperly stored, overcharged, or defective batteries can short circuit, overheat, and sometimes cause a fire. Most lithium batteries manufactured today contain a flammable electrolyte and have a higher energy density. They can overheat and ignite under certain conditions and, once ignited, can be difficult to extinguish. In addition, although an infrequent event, a lithium battery is susceptible to thermal runaway, a chain reaction leading to a violent release of its stored energy.
Resources for Shippers:
Whether you are shipping a single battery, a palletized load of batteries, or a battery-powered device, the safety of your package, and of the people who handle it along the way, depends on compliance with these regulations.  For shipments made using carriers other than the United States Postal Service, please refer to 49 CFR 173.185 for detailed requirements related to shipments of lithium batteries, including those contained in electronic devices.
"How to Safely Send Batteries and Battery Flyer"
Resources for Manufacturers:
For safety reasons, lithium batteries must be subject to a series of design tests per sub-section 38.3 of the UN Manual of Tests and Criteria.  Downstream shippers and consumers, however, often cannot confirm if their battery was successfully tested.  To address this issue, some lithium battery and device manufacturers provide product information sheets with this information, however, this is not a wide-spread practice.  The UN Model Regulations now have a requirement for lithium battery manufacturers and distributors to make available lithium battery test summaries (TS) using a standardized set of elements.
Resources for Airline Passengers:
If you're planning a trip, you may bring your laptop computer, cell phone, camera, personal digital assistant, or other battery-powered devices as these items are still safe to fly! Batteries pose little risk when contained within the devices they power if steps are taken to prevent inadvertent activation. Spare batteries can be packed in carry-on baggage if steps are taken to protect against short circuits.
https://www.faa.gov/about/initiatives/hazmat_safety/
https://www.tsa.gov/travel/security-screening/whatcanibring/items/lithium-batteries-100-watt-hours-or-less-device
https://www.tsa.gov/travel/security-screening/whatcanibring/items/lithium-batteries-more-100-watt-hours
https://www.tsa.gov/travel/security-screening/whatcanibring
Resources for Consumer Product Safety:
The Consumer Product Safety Commission (CPSC) is an independent Federal regulatory agency with a public health and safety mission to protect the public from unreasonable risks of injury or death associated with the use of thousands of types of consumer products, to include lithium battery-powered products. CPSC has received consumer complaints and manufacturer and retailer reports involving hazards associated with batteries and battery chargers. Potential hazards include overheating, fire, electrical shock from battery chargers, thermal burns, exposure to alkaline battery electrolytes, or high-velocity ejected internal components of batteries. Incidents have been reported with the battery while the product is in use, during storage and during battery charging. There have been a number of recalls involving lithium-ion batteries/battery packs/battery chargers for use in cellular telephones, portable computing products, and other personal electronic products. There have also been a number of recalls involving other technology batteries used in products such as battery-powered ride-on toys and portable battery-powered tools.
www.cpsc.gov/Voluntary-Standards/Batteries
https://www.cpsc.gov/Safety-Education
CPSC Hotline: 1-800-638-2772
Recycling batteries:
https://www.osha.gov/SLTC/recycling/recycling_batteries.html
North American Lithium Battery Safety
PHMSA works closely with its counterparts at Transport Canada, Transportation of Dangerous Goods Directorate. For information on transporting lithium batteries in Canada see the links below to guidance issued by Transport Canada:
https://www.tc.gc.ca/eng/tdg/shipping-importing-devices-containing-lithium-batteries.html
http://www.tc.gc.ca/eng/tdg/marks-safety-1225.html
http://www.tc.gc.ca/eng/tdg/publications-bulletins-safety-marks-1279.html
Last updated: Tuesday, February 23, 2021