Videos and Mobile Apps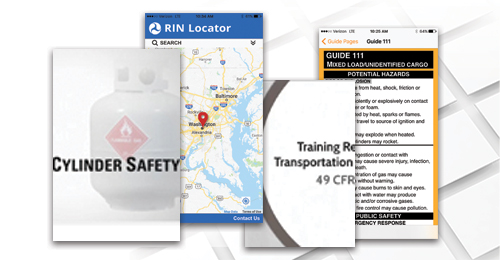 Videos
PHMSA's Webinar for M/R-Number Approval Termination

This webinar provides you with a basic understanding of Manufacturer and Reconditioner Approval numbers, and why PHMSA is proposing termination of current M-number approvals (without an expiration) and all R-number approvals. Federal Register Notice Docket No. PHMSA-2017-0084 Notice No. 2017-03 was published on November 17, 2017 and describes the proposal to terminate M- and R- numbers. Unexpired M-number approval holders MUST contact approvals@dot.gov prior to November 17, 2018 to modify their approval with a new 5-year expiration date. Current R-number approval holders who wish to maintain their approval must request a new M-number from PHMSA—linked to their R-number—that will include a 5-year expiration date. For more information, visit PHMSA's website at https://www.phmsa.dot.gov/hazmat/pressure-vessels-approvals/m-symbol.

PHMSA's 2018-19 Registration Process Tutorial

This year PHMSA updated the registration process and added new features to help you better navigate through the online systems. This tutorial provides you with an overview of the steps and information you will need to register, print certificates, make amendments, and make supplemental payments. The new online registration system can be accessed through PHMSA's Portal website at https://portal.phmsa.dot.gov/. If you do not have an account already, you will need to create an account with a username and password to enter the Portal. Once you've logged in, you will be automatically directed to the Registration Home Page.

Never Refill 1 lb., Propane Bottles (DOT-39 cylinders)[4:21]:

The public is cautioned to never refill DOT 39 cylinders, i.e., 1 lb., cylinders used for camping. DOT 39 cylinders, of any size, are strictly non-refillable. Hazmat incidents involving refilled DOT 39 cylinders have occurred, including one fatality.

PHMSA/OSHA Hazard Communication:

Helps clarify the hazard communication required by both agencies emphasizing both DOT hazard communication and OSHA HCS 2012 labeling may appear on the same package, even in transportation.

Webinar: Hazmat Transportation Training Requirements [26:14]:

The HMR require the training of ALL hazmat employees. This video will aid those standing up a new training program or seeking a better understanding of training requirements.

How to use the 2020 Emergency Response Guidebook (ERG)

Teaches the basics on how to use the ERG, the go-to manual for first responders needing to identify specific hazmat risks, steps to protect themselves, and procedures for containing the incident as quickly/safely as possible.

Emergency Response Guidebook (ERG) 2020 Updates

Information on what is new or updated in the 2020 ERG.

Notification Sequence and Requests for Technical Information

Steps to take to receive information beyond what is available in the 2020 ERG.

Emergency Response Guidebook (ERG) for Android Tutorial [6:45]:

Learn the basics of how to use the Android version of PHMSA's ERG2016 app. Download free from Google Play.

Emergency Response Guidebook App (ERG) for iOS Tutorial [6:40]:

Learn how to use the iOS version of PHMSA's ERG2016 app. Download free from the iTunes App Store.

Food Truck Cylinder Safety [5:24]:

Provides guidance on how to check manufacturing and requalification dates, and visually inspect a cylinder commonly used in the food truck industry, to ensure it is safe for use. Cylinders containing flammable gases must conform to proper packaging, qualification, and maintenance, and use requirements of the HMR. Free posters available: 'Is Your Cylinder Safe To Fill?,' and 'Is Your Propane Cylinder Safe?'
Mobile Applications
DOT Chart 17 - Hazardous Materials Markings, Labeling and Placarding Guide

This app displays the markings, labeling and placarding (in full-color) required by the Hazardous Materials Regulations, Title 49, Code of Federal Regulations. This app is general guidance only and should not be used to determine compliance with 49 CFR, Parts 100-185. Available free on Android and iOS. Print version is available for download or order hard copies.

oCFR

Provides mobile access to PHMSA's Hazardous Materials Regulations (HMR) in 49 CFR parts 100-185 for the classifying/handling/packaging of hazmat by highway, rail, aircraft, and vessel. Provides on-line access to PHMSA's Pipeline Safety Regulations in 49 CFR parts 190-199. Apps available free on Android and iOS. On-line versions also available.

Emergency Response Guidebook 2020

The go-to manual for first responders needing to identify specific hazmat risks, steps to protect themselves, and procedures for containing an incident as quickly/safely as possible during initial response to a hazmat transportation incident. Available free: Android and iOS. Tutorials available for both versions.

RIN/VIN Locator

RIN/VIN Locator allows you to search for an approved cylinder requalifier. Enter a city/state or zip code, and contact information for approved cylinder requalifiers is given, as is  authorized testing methods and cylinder specifications for the approved entity. Available for free on Android and iOS. Web-based version available.
Last updated: Monday, October 17, 2022