Pipeline Construction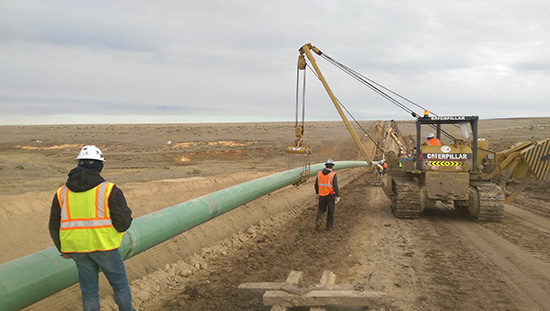 A newly constructed pipeline being lowered into the ground
Overseeing the construction of new pipelines to ensure safety and reliability is one of PHMSA's missions. The first element of this mission is proper design and construction of pipelines. This is essential to establish the pipeline's fitness for service. Pipeline construction inspections also verify operators follow federal regulatory requirements.

In the last few years, the pipeline industry experienced unparalleled growth to satisfy the Nation's energy demand and bring new sources of supply to the market. In response, PHMSA has stepped up the number of pipeline construction inspections performed each year to accommodate new pipeline growth. The figure below shows how our efforts have increased to meet these construction projects. The COVID-19 pandemic caused fewer days to be devoted to construction in 2020 and 2021, but PHMSA is returning to more regular inspection activities and expects the days to rebound. PHMSA's inspection of these new pipeline projects are intended to verify that pipeline operators are complying with pipeline safety regulations.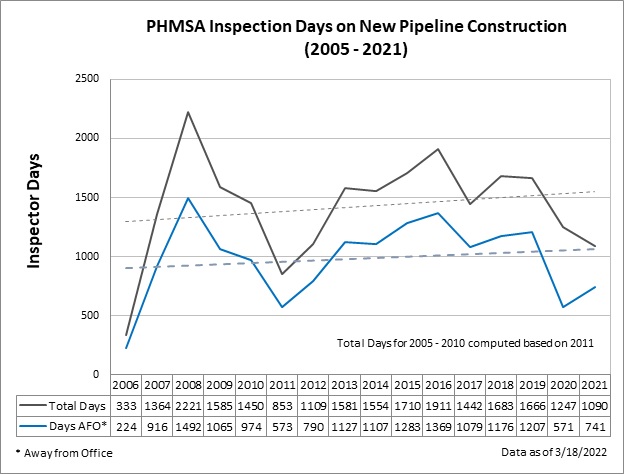 PHMSA has increased its new pipeline construction inspections in response to new pipeline projects
To ensure enough inspections are being conducted, PHMSA uses Annual Reports (AR) from pipeline operators to approximate the miles of newly constructed pipelines built each year. The report includes the approximate miles of new pipelines constructed per year along with the reasoning and assumptions used to calculate these numbers. Many of these new construction projects are in accordance with special permits or the Alternative Maximum Allowed Operating Pressure (AMAOP) rule. Special permits and the AMAOP rule do require the operator to implement strict quality requirements to prove and maintain both short- and long-term pipeline integrity.

Through new construction inspections, inspectors (PHMSA and State Partners) have discovered issues requiring immediate remediation by the operator prior to the pipeline being placed in service. This assures pipeline integrity. Issues discovered during these inspections included poor quality control, welding procedures, pipeline coating, improper fittings, hot bends, and pipe concerns.

PHMSA participates in standards development and informational meetings with operators constructing new pipelines to discuss issues uncovered during inspections. These meetings are held in collaboration with our State Partners, the Federal Energy Regulatory Commission (FERC), and Canada's National Energy Board (NEB). These meetings help inform the public about safety precautions the industry should take, review lessons learned from past inspections, and improve pipeline construction practices before construction begins.

PHMSA challenges the industry leaders to share their plans and practices to help resolve these issues. PHMSA also encourages industry trade groups to develop quality action plans and safety management systems for each pipeline construction project.

PHMSA inspects new pipeline constructions projects, identifies pipeline construction issues, and enforces federal regulations appropriately. PHMSA supports the use of best practices for all pipeline construction work.
Last updated: Friday, May 6, 2022