Safe Transportation of Energy Products Overview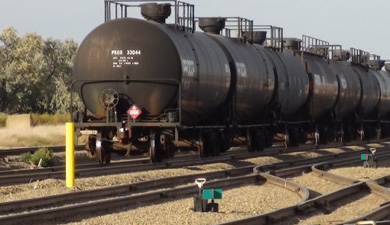 Nearly a million shipments of hazardous materials move throughout the U.S. each day. While most of these shipments reach their final destinations without incident, accidents can and do occur. Enhancing the safe transport of crude oil by rail is one of the Department's top priorities. DOT has taken more than 30 actions to improve safety, including convening the railroad and energy industries, undertaking and completing a comprehensive rulemaking, and executing multiple safety advisories and emergency orders. DOT's system-wide approach to improving safety includes efforts focused on improvements to rail operations and equipment, minimizing risks, ensuring proper classification of hazardous materials, improving tank car survivability, emergency response training and information, and scientific research. Among DOT's most significant actions to date:
Safety Communications and Alerts
DOT continues to address safety concerns by issuing emergency orders, safety advisories, safety alerts and other announcements. For example, on May 7, 2014, DOT required railroad carriers to inform SERCs, as well as other State, local, and tribal officials, on an ongoing basis about any train carrying one million gallons or more of Bakken crude oil to ensure that emergency responders to respond appropriately to an incident involving crude oil.
Call to Action
Transportation Secretary Anthony Foxx issued a Call to Action calling on rail company executives, associations, shippers, and others to identify immediate actions to improve safety in the transportation of crude oil by rail. Following the Call to Action, railroad companies agreed to a series of significant safety measures, including speed reductions, increased inspections, the implementation of new brake technology, new routing protocols, and investments in first responder training.
Ensuring Proper Classification
On August 29, 2013, PHMSA and the Federal Railroad Administration launched Operation Classification to verify that crude oil is being properly classified in accordance with federal regulations. This includes activities such as unannounced spot inspections and data collection, sampling and testing at strategic terminal and transloading locations that service crude oil. PHMSA investigators continue to collect and test samples from various points along the crude oil transportation chain.
Regulatory Action
On May 1, 2015, the DOT announced a Final Rule to strengthen the safe transportation of flammable liquids by rail. The final rule, developed by the PHMSA and FRA, in coordination with Transport Canada, focuses on safety improvements that are designed to prevent accidents, mitigate consequences in the event of an accident and support emergency response.
Scientific Research
DOT, in partnership with Transport Canada, is participating in a comprehensive, multi-phase collaborative research study conducted by the Department of Energy and Sandia National Laboratories to develop a more comprehensive understanding of the properties of crude oil. The study follows on a Sandia literature survey released in March 2015, which identified gaps in important crude oil characterization data. The study will help answer outstanding questions associated with the production, treatment, and transportation of various types of crude oil, including Bakken crude oil, and could help inform decisions and future actions that DOT can take to continue to improve transportation safety.