Research and Development Branch
Featured Items/Latest News
Research Forum 2021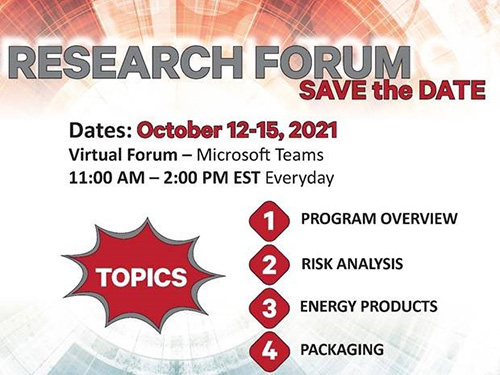 The RD&T Branch will be hosting the 2021 RD&T Forum from October 12-15. The forum will be a 4-day, 3-hour per day event with a broader focus on outreach and engagement to our stakeholders, particularly in industry and the research community. Topics include, program overview, risk analysis, energy products, and packaging. Our goals are to showcase the RD&T program, work, initiatives, and current research priorities of our research program, and provide attendees an opportunity to interact with the agency's top leaders and subject matter experts. Additionally, it is an opportunity to get feedback from stakeholders on research gaps and needs that RD&T can use to craft its project funding priorities. If you're interested please fill out the registration form here.
---
OHMS has awarded six projects totaling over $9.6 million to various researchers that will support safety and innovation in hazmat transportation as a result of its 2020 Broad Agency Announcement.
| Researcher | Project Title |
| --- | --- |
| North Carolina State University | Composite Metal Foams for Impact Protection of Hazardous Material Transportation |
| Virginia Commonwealth University | Honeycomb-Encapsulated Phase Change Materials Composites for Battery Transportation Safety |
| SMS | Default Classification of Thermites |
| WHA | High Strain Rate Rupture and Fragmentation of Aluminum Cylinders |
| West Virginia University | Thermo-Mechanical Responses of FRP Composite Jacketing for Tank Cars under Impact and Fire |
| APT Research | Fine Grain Metal Powder Standards for Consumer Pyrotechnics |
About the R&D Branch
The Research & Development Branch leads and coordinates innovative research projects that are focused on near-term solutions to hazardous materials transportation problems.
Vision: To promote innovative approaches to support the safe commerce of hazardous materials for a multi-modal transportation system.
Mission: To provide research, analyses and technical information needed to manage the public risk associated with hazardous material transportation.
People
The staff of the Research and Development branch conduct all aspects of program management within OHMS, including preparation of RFPs, SOWs, milestones, meetings and deliverables. R&D projects are conducted by a number of internal and external research partners and in cooperation with other DoT modal partners. OHMS R&D efforts include laboratory testing, piloting and field implementation. R&D staff also identify potential emerging risks and challenges to the safe transport of hazardous materials and provide fiscal oversight of diverse projects within their areas of responsibility. Current staff consists of Rick Boyle, chief and Pedro Bueno.
Research Needs
To submit research needs concerning hazardous materials transportation, email Pedro Bueno at pedro.bueno@dot.gov
Last updated: Wednesday, September 22, 2021